Uppskrift
Hamborgarabrauð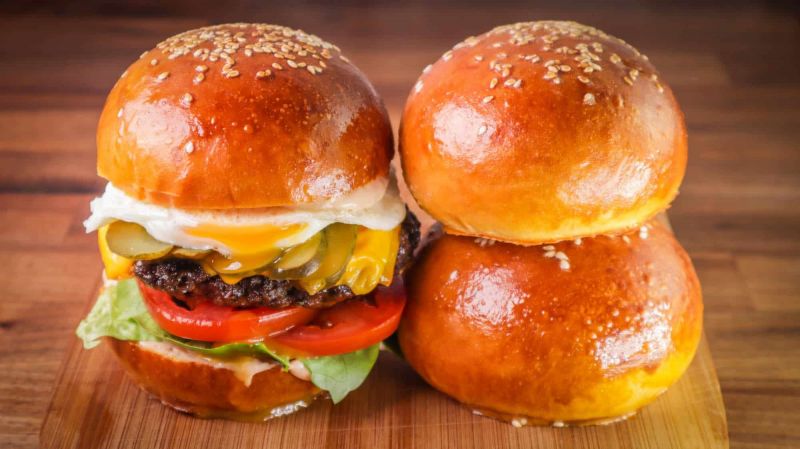 Roux (Límið)
90 g
Nýmjólk
20 g
Hveiti (Brauð)
Deigið
200 g
Hveiti (Brauð)
2 g
Þurrger
4 g
Salt
20 g
Sykur
30 g
Smjör
50 g
Nýmjólk
Glazing
1 stk
Eggjarauður
1 tsk
Nýmjólk
Related Recipe:

Hamborgarar
Hamborgarabrauð
Gúrka
Kál (Iceberg)
Beikon
Hamborgarasósa
Bernais Sósa
https://www.youtube.com/watch?v=adkZ8IQqq4Q&list=PLThHwDw728JYdoZkngr1Sfq7x6BT-YjsK&index=11&t=146s
Make the roux by cooking the milk and flour in a small pot over medium heat for around 5 – 7 minutes or until thick and not lumpy. Cover and refrigerate until cold.
In a bowl add the milk, salt, yeast, sugar, butter, and the roux. Mix to combine.
Add the flour and mix to a dough.
Knead the dough for around 5 – 6 minutes. Desired dough temperature 25 – 26C (77 – 79F).
Cover and proof for 1 hour.
Fold.
Proof for 1 hour.
Divide and preshape into rounds.
Rest for 30 minutes.
Final shape.
Final proof 1 – 1.5h. During this time preheat your oven to 160C (320F) fan on.
Brush the buns with the glaze, let them dry for 5 minutes, then brush them again. Finish with the sesame seeds.
Bake for around 25 minutes.
Brush with butter as soon as they come out the oven.